Salo Classic Air Leather Pad Sofa Review – One of the newest synthetic leathers on the market is air leather, commonly referred to as leatheraire. Microfiber ingredients, which are also used to make other synthetic fabrics, are used to create air leather. The fabric is more comfortable than other synthetic leathers because it has tiny micro-perforations that let air pass through it.
Salo Classic Air Leather Pad Sofa strikes a beautiful balance between form and purpose. The stylish silhouette and sturdy pine frame give your living area a contemporary feel.
Salo Pad Sofa generates a cozy atmosphere and fits in with any decorating style or plan owing to its air-leather upholstery. When you wish to unwind, the foam cushioning and feather backrest add to your comfort.
Reviews for the Salo Classic Air Leather Pad Sofa
With good reason, homeowners frequently choose Salo Classic Air Leather Pad Sofa when purchasing home furnishings. A high-quality air leather sofa emanates flair, personality, and luxury. Despite the fact that many people are drawn to the elegant appearance of air leather sofas, it's also simple to fall in love with the numerous useful advantages and benefits of this leather.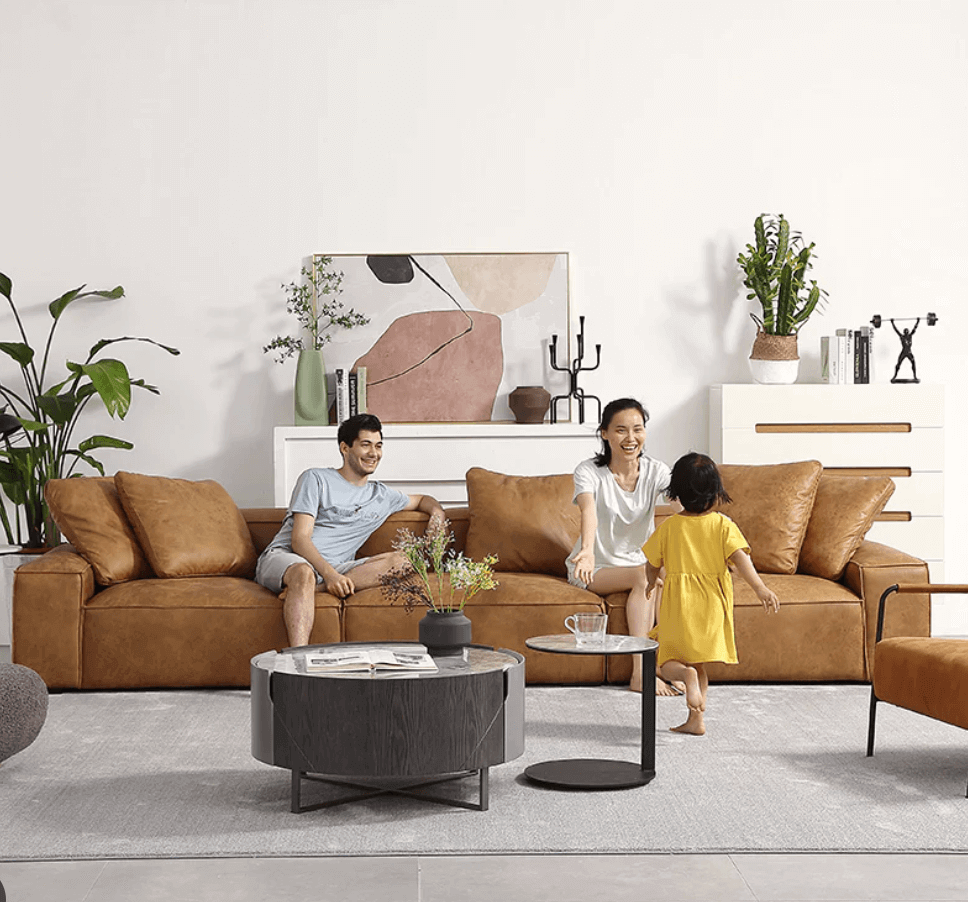 The reviews of consumers who commonly pick the Salo Classic Air Leather Pad Sofa are mentioned below:
"It's a very beautiful couch. It looks like leather but is very soft and almost feels like velvet. It's firm but comfy and my whole family loves it. I had never heard of air leather and from the research I did, it's fabric as opposed to bonded leather. There's not much information but I'm hoping it's durable!"

"The couch arrived very quickly and in perfect condition. I must say it exceeded my expectations. Air leather feels very soft and doesn't feel as cold as genuine leather. The couch has a great firmness to it but is also super comfy, and my toddler loves climbing and jumping all over it. Very pleased with the purchase. Let's hope it holds up over time."

"Such a great couch! I love it too much! This is the first time I ordered a couch in air leather, it's soft, breathable and waterproof. What's more, I am so lucky to get it when it's in stock , when I come back to the site the next two days, they have been sold out already"

"Really like this couch because it's the perfect size for a small living room! Was very difficult to find something that fit into our small space and I really wanted a sectional to maximize the number of seats. Worked out perfectly!"

"Perfect! Nice couch for our living room. Modern design, lovely color, easy assembly, and decent price."
It is now simpler for you to contemplate air leather sofas for your home after reading the reviews of the Salo Classic Air Leather Pad Sofa. A leather air sofa investment that will surely pay off in the long run and will cost less money!
A Guide To Air Leather: How Does It Work?
PU leather, imitation leather, and leatherette are terms you've probably heard of. Well, a newcomer has arrived in town. Introducing air leather. All of them are excellent vegan substitutes for real leather. But what sets air leather apart from the competition? What is air leather used for, and why should your next sofa be covered in it?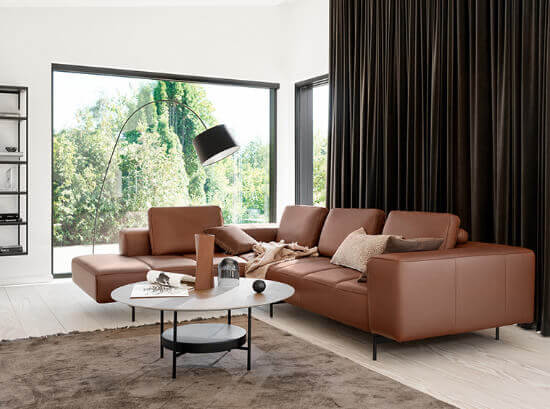 What Is Air Leather?
A significant benefit exists for air leather, a synthetic substitute for genuine leather. It breathes, in contrast to real and synthetic leather. It is much more pleasant for furniture because of micro-perforations that let air pass through.
The main selling point is that despite being woven, the material feels like leather. Leather is able to breathe because of the weaving. On hot days, we are all aware of how disgusting it can be to sit on real leather or, even worse, faux leather. Air leather promises to make the experience significantly cooler and cozier.
How Is It Made? (Salo Classic Air Leather Pad Sofa Review)
It is constructed of polyurethane. This is an entirely synthetic product made from petroleum. They weave several tiny holes into the fabric as it is being manufactured.
It lets air move through, unlike imitation leather or even real leather. Air leather may be produced in a wide variety of designs, hues, and patterns thanks to the manufacturing method. After that, it is employed to create apparel, furniture, and accessories.
Air Leather vs Real Leather
Real leather is typically regarded as the best option for comfort. It is cozy to sit on and has an opulent natural feel. It can, however, become sticky when it's hot outside.
Real leather feels more opulent, but this does not. On hot days, it is more comfortable due to its micro-perforations.
Air leather ages poorly compared to real leather. Actually, a lot of people like the way worn-in leather looks. They enjoy the worn-in look it acquires over time.
Real leather is also incredibly robust. It can maintain its good condition for many years with routine conditioning.
Within a few years, it usually starts to look outdated and wears terribly. You might find yourself in the market for a new couch sooner than you'd like.
The decision? The best material, if you can afford it, is real leather. But be careful as not all genuine leather is created equal! Bonded leather is a less expensive, less resilient version of real leather.
Air leather is a more comfortable alternative to straight synthetic leather if you can't stretch to real leather.
OFFER WON'T LAST FOR LONG – GET YOURS NOW AT 50% OFF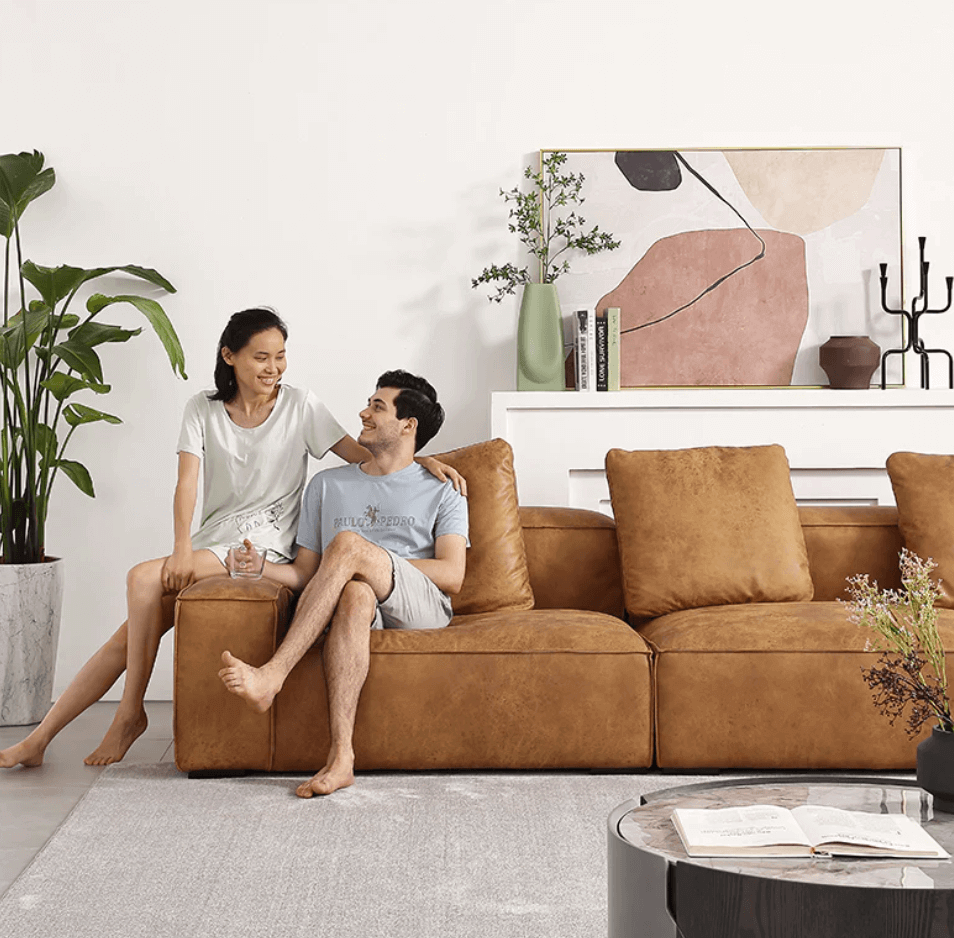 Pros and Cons of the Salo Classic Air Leather Pad Sofa
No product is perfect in every way. What are the positives of air leather and what are the negatives?
Pros of the Salo Classic Air Leather Pad Sofa
For those who choose not to consume animal products, air leather is a terrific option.
Since no animals were harmed in the making of air leather, you may feel good about yourself. Many individuals would categorize air leather as a vegan product, despite the fact that there isn't universal agreement on what constitutes a vegan product.
The cleaning of air leather is also quite simple.
Have you ever tried using a bottle of leather cleaner to clean a leather couch for an afternoon? The fight is real, you know that. Simply wipe down air leather with a moist cloth to clean it.
A lot more pleasant than imitation leather is air leather fabric. It breathes constantly, preventing discomfort in the summer.
Another important aspect in air leather's favor is price. It is considerably less expensive than genuine leather.
In contrast to actual leather, which only comes in a few colours, it is also quite customisable.
Cons of the Salo Classic Air Leather Pad Sofa
There is no denying that air leather is more animal-friendly. But the sad truth is that real leather might be a more environmentally friendly option.
Polyurethane is used to create air leather. Animals and the environment are both harmed by the production process.
Air leather's inferior durability to actual leather is another drawback in this vein. Over time, it is prone to peeling.
Once something begins to decay, it's incredibly difficult to fix. After that, biodegradation requires a long period.
Thus, air leather is not the ideal material for furniture that will see a lot of usage. Other materials are generally a better option if you have little children or animals that climb your furniture.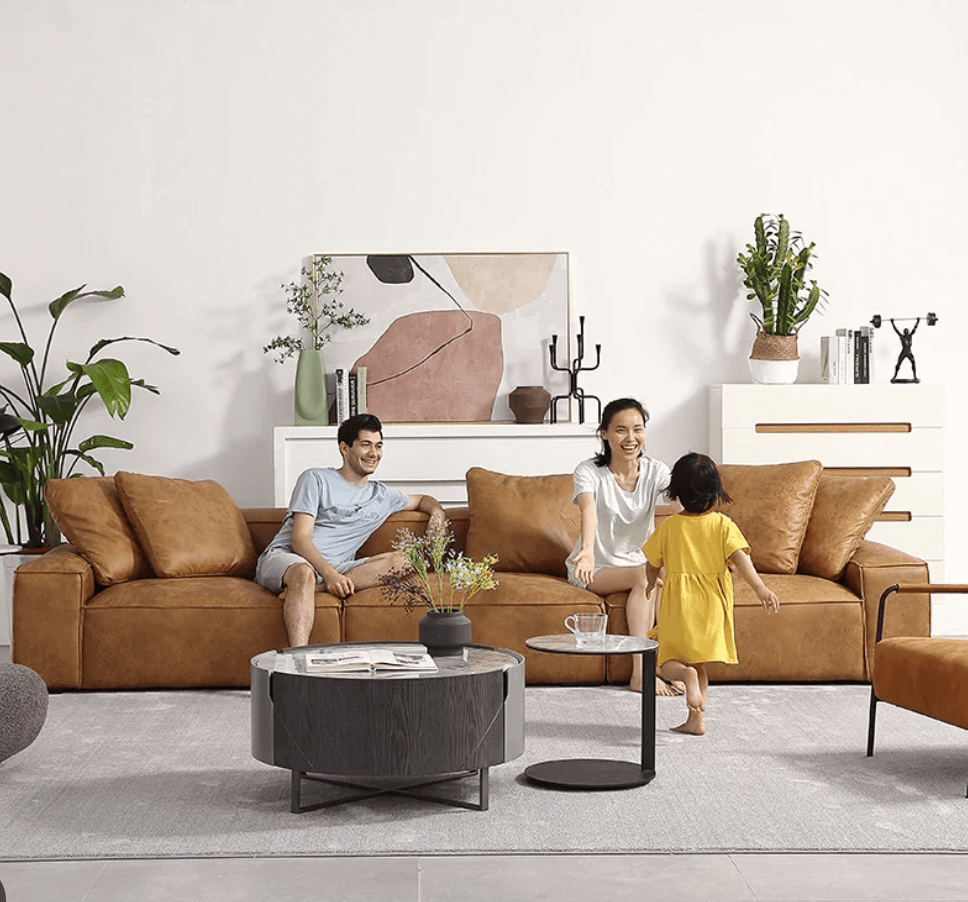 Choosing the Perfect Sofa: Basic Suggestions
When it comes to selecting a sofa, there appear to be an infinite number of alternatives, just like with everything else in this day of limitless choice. The patterns, shapes, and personalization options might be daunting once you enter a store or examine internet photographs, even if you believe you know precisely what you want. By using these suggestions, you can obtain a clear picture of what you want and what you need!
Think about size first. If your living room is larger, you'll need to choose exactly how much of the space you want your couch to occupy. It is likely that you will require a smaller couch if your living room is small. Any couch or sofa will be the center of attention in a small area, so it's critical to choose one that is both functional and has a strong design that carries and enhances the rest of the room.

Choose the exact position of the sofa. Analyzing your lifestyle is the first step in organizing your home effectively. Make sure your couch is facing that way. Create numerous seating places around your sofa with chairs and cushions so that you can enjoy it alone or with lots of people.

Examine upholstery material options. Which will suit you the best? When selecting a material for your sofa, practicality is more crucial than aesthetics. There are many of us who would want to relax on a luxurious, white suede sofa because they are so stunning but risky. If you have pets or young children who could cause serious harm, suede may not be the best option.
Pick a look that goes well with your house. When choosing the kind of couch that would fit organically in your home, trust your gut feeling even though it can be challenging to define your own particular style.

YOU REALLY DO NOT WANT TO MISS OUT ON THIS HUGE 50% DISCOUNT OFFER TODAY – GET YOURS QUICKLY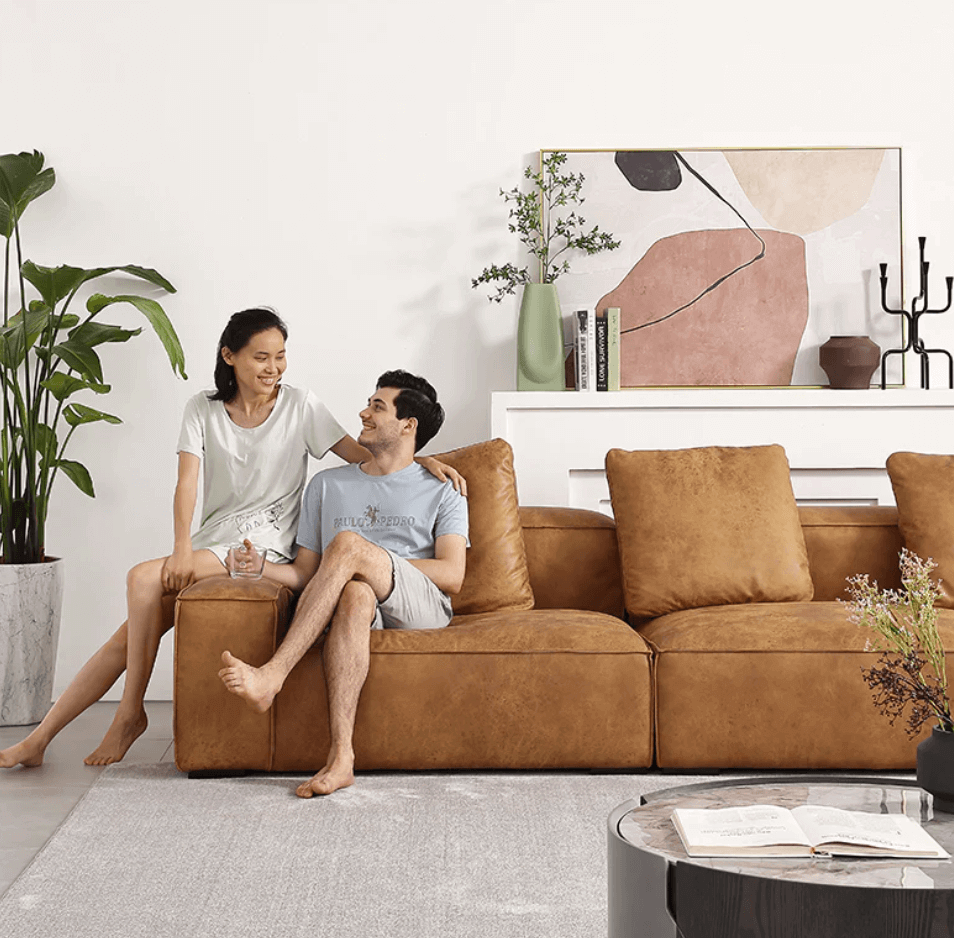 What Makes the Salo Classic Air Leather Pad Sofa the Best Option for Your Living Room?
One of the most crucial furniture choices you can make is a sofa! Consider how much of your daily routine at home revolves around this single item. On the couch, you can unwind after work or on the weekend while watching TV, entertaining friends and family, or napping. Read on to learn why the Salo Classic Air Leather Pad Sofa is the finest option for your living room before making an investment in this important piece.
Unimaginably Durable. Air leather is a high-strength fiber that is breathable, flexible, soft, and skin-friendly, making it the ideal material for use with children and pets. Additionally, the linen we select is waterproof, anti-fouling, stain-resistant, and scratch-resistant, giving you the most pleasant experience.
Undeniably Bouncy. The inside of the sofa is filled with the best foam and feathers. The optimal ratio was discovered through tens of thousands of testing, making it soft enough to let you sink into and bouncy enough to support your body.
Extraordinarily Convenient. Since air leather is waterproof, there's no need to be concerned that getting wet may cause the sofa to sag or deform. It also makes cleaning simple; if there are stains, all you need is a rag.
Incredibly Sturdy. Every piece of this furniture has been carefully picked for sturdiness, from the latch made of chrome-plated iron to the enduring frame made of larch wood. Salo Pad Sofa can support up to 1,000 lbs of weight, which is equivalent to 6.5 times the average human body weight.
Unique Pattern. The delicate pattern showcases the luxury of leather texture while preserving the natural charm.
Perfect Edge. A perfect edge is firm, symmetrical, and sewn from inside to outside.
Optimal Sofa Feet. Wood sofa feet are strong and durable. The sofa is practical to move without damaging the floor thanks to a thoughtful plastic foot mat.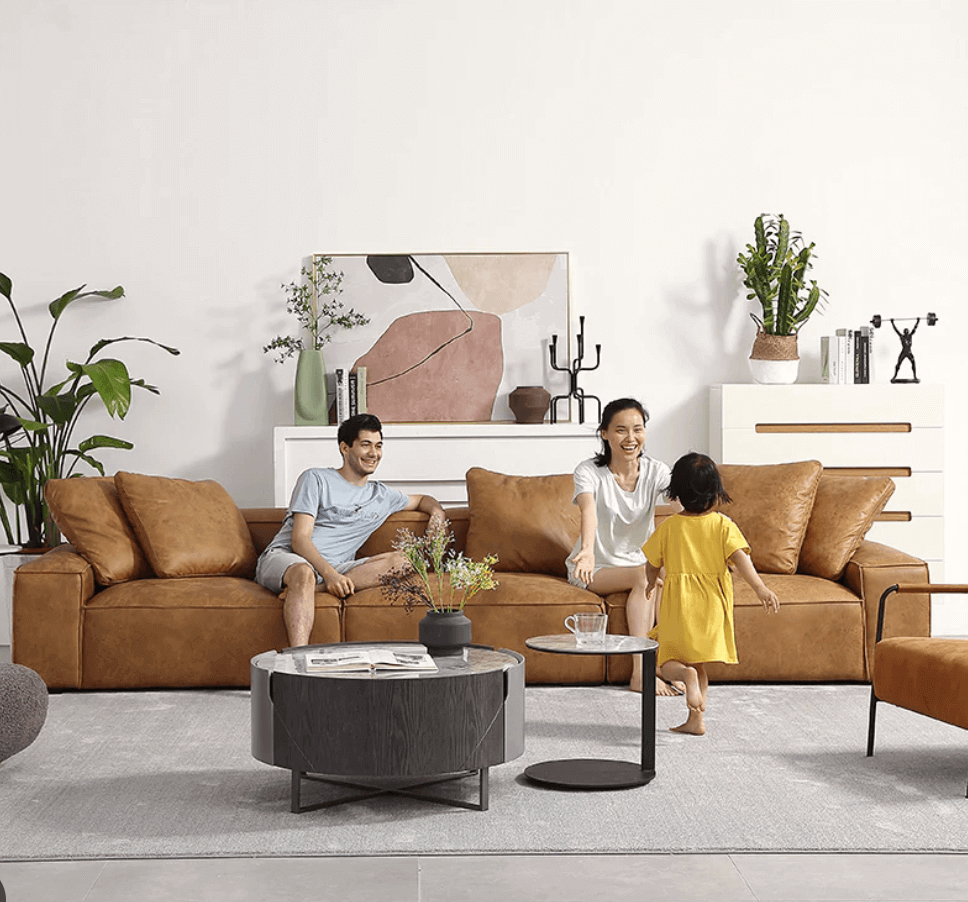 OFFER WON'T LAST FOR LONG – GET YOURS NOW AT 50% OFF
Bottomline on the Salo Classic Air Leather Pad Sofa
One of the most significant purchases you'll probably make for your house is a sofa. It makes sense to spend the time and money on one that will endure for many years since it is a piece that is used for relaxing, reading, eating, entertaining, watching TV, and even napping.
Spend some extra time conducting your research before buying a couch or sofa since it is a substantial furniture purchase that you may have for decades. Style preferences are a personal matter, but there are objective standards you can use to pick a high-quality sofa and make sure you do. Think about the room's design, the space it will occupy, and how you intend to use it.
Salo Classic Air Leather Pad Sofa can offer you a high-quality sofa that will completely suit your home, from taking measurements and selecting the ideal frame to gathering fabric swatches. Living room seating designs are crucial because this furniture is typically the focal point of social settings.
Where can I Buy Salo Classic Air Leather Pad Sofa Today?
You can get this Salo Classic Air Leather Pad Sofa directly from the manufacturer and we advice you do so to prevent failing victim to fraud on the internet. Ordering from the manufacturer's website provides trust and assurance on the product you are purchasing.
Request this Salo Classic Air Leather Pad Sofa from the official website and get a 50% discount offer today. They have limited stocks available with free shipping around the world – so we urge everyone to make their order as fast as possible to prevent missing out on this offer.
There is a 30-days Money Back Guarantee on this product, so after purchase and you wish to return the product, you can simply call the company and your request will be granted. You have nothing to lose but everything to gain. Get Yours Now!
**Latest Update – There is a 50% Discount on this Salo Classic Air Leather Pad Sofa today and we really advice all our readers to make good use of this.
You have nothing to lose but everything to gain as there is also a 100%, 30-days Money Back Guarantee on this Product.
We recommend you get yours now to prevent missing out on this great offer.